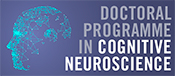 Cognitive Neuroscience originated from the interdisciplinary combination of domains as diverse as cognitive psychology, neurophysiology, linguistics and clinical neuropsychology, among others, and from the technological advances in the field of neuroimaging and computation. This interdisciplinary combination aims to discover the brain mechanisms underlying psychological processes, specially those supporting language.
The objective of the programme is to provide training to researchers in the field of Cognitive Neuroscience with a view toward both basic knowledge development and knowledge transfer to the fields of Health and Education. Special attention will be given to interdisciplinary theoretical training and advanced neuroimaging techniques.
The programme includes research teams on the following subjects: Language and Reading, Neurobiology of Multilingualism, Neurodegeneration and Language Disorders, and Advanced Methods in Cognitive Neuroscience.
GO TO Doctoral Programme in Cognitive Neuroscience
APPLICATION PROCESS
- Funding is necessary to get a PhD position at BCBL. Check our website in the jobs section for possible PhD positions offered at BCBL or get in contact with our project manager Ana Fernández (a.fernandez@bcbl.eu) to learn about possible grants to apply for.
- Additionally visit the University of Basque Country's grants page to learn about more possible grants.
- A scientific committee will assess each application to review the profile of the candidate and decide on the supervisor/s to work with.
- The selected applicants will be interviewed.
APPLICATION COMPONENTS
To be sent by email to hr@bcbl.eu:
1) Scanned ID (Spanish and European applicants) or Passport (international applicants)
2) Bachelor and Master Degree certificate
3) Bachelor and Master Transcripts of records
4) Résumé (CV)
5) 1 essay stating your research interests, ongoing projects of interest within BCBL, possible PI/s to be supervised by (1 page maximum, .pdf format)
6) Two letters of recommendation from faculty members
GENERAL REQUIREMENTS
All the information must be sent in ENGLISH for the initial selection process. In case the original letters of recommendation are in a different language than English, both the original letter and a translation are required. Transcripts of records should be provided in ENGLISH as well for this first stage.
Once students are admitted, they will begin the enrollment process. To enroll they will be required to provide the University of the Basque Country with the Degree Certificates and the Transcripts of Records either in Spanish, Basque or English. For more information about the documents required by the University, please visit these pages: Pre-enrolment and admission & Legalisation of documents.